Transportation
Transportation information for the Administration (No.738-4, Zhongzheng Rd., Wufeng Dist., Taichung City):
I. Driving:
a. Take National Freeway No. 1 and connect to National Freeway No. 3 at Changhua System Interchange (191 km); drive southward and exit
Take National Freeway No. 3 and exit at Wufeng Interchange, which is located at 210 km southbound and 212 km northbound, and turn left to reach our Administration.
II. Using Public Transportation
a. Taiwan Railway and Intercity Bus: Arrive at Taichung Train Station and take a bus toward Wufeng (e.g. Taichung Bus No. 201: departing every 20 min; Ubus No. 50: departing every 10 min (peak) or 15 min (off-peak)), getting off at the stop of K-12 Education Administration, MOE.
b. THSR:
1. Head to Taiwan Railway Xinwuri Station from Exit 3 inside the station, and take a10 min. shuttle bus toward Taichung Train Station (about 70 rides a day). After arriving at Taichung Train Station, take an intercity bus according to the aforementioned instructions.
2. Take the escalator at Exit 5 or 6 to the bus transfer station on 1F, and head to Exit 6 for No. 18~20 bus platforms. The inter-city bus departs every 10 min and takes 50 min to arrive at Taichung Train Station.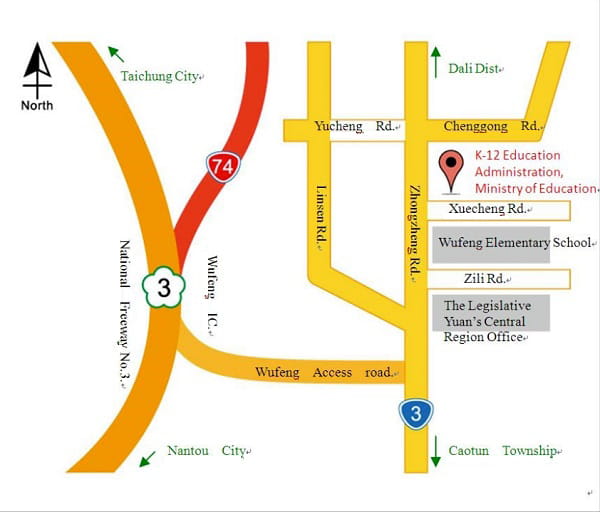 Taipei office (10F.~12F., No. 97, Sec. 1, Roosevelt Rd., Zhongzheng Dist., Taipei City):
Tel:886-2-7736-7499